About Us
If you're looking for fresh sushi, perfectly cooked tempura, maki, sashimi, noodles, and more, then come on down to Sun Sushi in St. John's! With 3 locations spanning the city, you're sure to find a spot close to you. Come down to our restaurant and enjoy the rich atmosphere with friends, family,...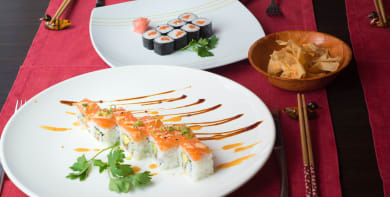 Reviews
"So fresh and delicious. Always a fantastic meal"
"You have the best salmon"
"I could put that salad dressing on everything it's so good!! thanks again!"
"Taste amazing I can't remember when I've had sushi this good thanks to all who prepare and bagged my meal have a great night may it be tip full"
"However, they forgot one of the golden California roll that I ordered"
"So fresh and delicious. Always great meals and quick service from this location"
"A side of little bit wasabi would be really appreciated"
"it is good as always, I f**king love this place!"
"Absolutely outstanding meal! Loved it. Not cheap but worth it!"
"Curry katsu bowl was extra tasty today. Unreal."
"The salmon was exceptional! Compliments to the chef."
"thanks for making a friend's last night in town delicious!!"
"No chopsticks with order"
"Forgot my chopsticks. Unfortunately I had paid for them"
Our Locations
St. John's
267 Torbay Rd, St. John's, NL A1A 4A2, Canada, St. John's, A1A 4A2
Opening Hours
| | |
| --- | --- |
| Monday | 11:30 AM - 9:30 PM |
| Tuesday | 11:30 AM - 9:30 PM |
| Wednesday | 11:30 AM - 9:30 PM |
| Thursday | 11:30 AM - 9:00 PM |
| Friday | 11:30 AM - 9:30 PM |
| Saturday | 12:00 PM - 9:30 PM |
| Sunday | 12:00 PM - 9:30 PM |
Delivery times may vary
We deliver to:
A0A, A1A, A1B, A1C, A1E, A1G, A1H, A1K, A1L, A1M, A1N
St. John's
186 Duckworth Street, St. John's, NL, Canada, St. John's, A1C 1G5
Opening Hours
| | |
| --- | --- |
| Monday | 11:30 AM - 9:30 PM |
| Tuesday | 11:30 AM - 9:30 PM |
| Wednesday | 11:30 AM - 9:30 PM |
| Thursday | 11:30 AM - 9:30 PM |
| Friday | 11:30 AM - 10:15 PM |
| Saturday | 12:00 PM - 9:30 PM |
| Sunday | 12:00 PM - 9:30 PM |
Delivery times may vary
We deliver to:
A0A, A1A, A1B, A1C, A1E, A1G, A1H, A1K, A1L, A1M, A1N, A1S
St. John's
193 Kenmount Road, St. John's, NL, Canada, St. John's, A1B 3P9
Opening Hours
| | |
| --- | --- |
| Monday | 11:30 AM - 9:30 PM |
| Tuesday | 11:30 AM - 9:30 PM |
| Wednesday | 11:30 AM - 9:30 PM |
| Thursday | 11:30 AM - 9:30 PM |
| Friday | 11:30 AM - 9:30 PM |
| Saturday | 12:00 PM - 9:30 PM |
| Sunday | 12:00 PM - 9:30 PM |
Delivery times may vary
We deliver to:
A0A, A1A, A1B, A1C, A1E, A1G, A1H, A1K, A1L, A1M, A1N, A1S, A1W