About Us
If you're looking for fresh sushi, perfectly cooked tempura, maki, sashimi, noodles, and more, then come on down to Sun Sushi in St. John's! With 3 locations spanning the city, you're sure to find a spot close to you. Come down to our restaurant and enjoy the rich atmosphere with friends, family, or whoever! With many delicious options to choose from, you might just find your next favourite dish!
Start off the meal with one of our many appetizers like our Crispy Chicken Wings which are deep-fried in a delicious crispy batter and served with a side of ponzu sauce. Another favourite appetizer is the Miso Soup, which pairs well with any of our dishes!If you're coming in for lunch, then might we offer one of our Lunch Specials? Try one of our Combos; with each combo coming with a protein option, four age gyoza, a side house salad, and six California rolls. We also carry other plates including the Orange Chicken Lunch Combo, or the Short Rib Lunch Combo.If you're looking for a heartier meal, then check out our Entrees section, packed with flavour and specialty in every dish. Try the Ton Katsu with either pork or chicken, the Ginger Chicken with Broccoli, or the Yakiniku Beef.No matter the time of day or what you're craving, let Sun Sushi be your next stop! If you don't feel like leaving the house, have your food delivered straight to your front door through SkipTheDishes. Don't wait, order Sun Sushi today!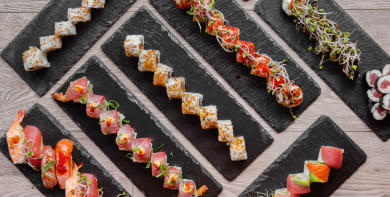 Reviews
Amelia
"forgot the Salad, but provided edamame beans instead. Still good!"
2022-11-25
Sally
"I loved the substitution of edaname."
2022-11-25
Stephen
"More expensive on Skip than DoorDash.."
2022-11-22
Stacey
"Always amazing"
2022-11-15
Emily
"Yellowtail didn't seem very fresh"
2022-11-14
Emily
"It was missing chopsticks"
2022-11-08
Lisa
"Curry can be a little thick/undissolved in recent months but lovely when consistency is good"
2022-11-07
Mandi
"There was no soy sauce, wasabi, ginger, or napkins."
2022-11-04
Stacey
"Excellent as usual a++"
2022-10-13
Emily
"I miss free chopsticks"
2022-10-11
Nicholas
"no chopsticks though"
2022-10-09
Emily
"Really fresh and tasty!"
2022-10-03
Angela
"lacking chicken and missing a sauce that I paid for but still delicious"
2022-09-20
S
"Forgot the chopsticks"
2022-09-18
Andrew
"Left a note indicating which sauces were in which containers- it was very thoughtful! My only advice is they should have included plastic cutlery!"
2022-08-11
Contact Us
St. John's
267 Torbay Rd, St. John's, NL A1A 4A2, Canada, St. John's, A1A 4A2
Opening Hours
Monday
11:30 AM - 9:30 PM
Tuesday
11:30 AM - 9:30 PM
Wednesday
11:30 AM - 9:30 PM
Thursday
11:30 AM - 9:00 PM
Friday
11:30 AM - 9:30 PM
Saturday
12:00 PM - 9:30 PM
Sunday
12:00 PM - 9:30 PM
Delivery times may vary
We deliver to:
A0A, A1A, A1B, A1C, A1E, A1G, A1H, A1K, A1L, A1M, A1N
St. John's
186 Duckworth Street, St. John's, NL, Canada, St. John's, A1C 1G5
Opening Hours
Monday
11:30 AM - 9:30 PM
Tuesday
11:30 AM - 9:30 PM
Wednesday
11:30 AM - 9:30 PM
Thursday
11:30 AM - 9:30 PM
Friday
11:30 AM - 10:15 PM
Saturday
12:00 PM - 9:30 PM
Sunday
12:00 PM - 9:30 PM
Delivery times may vary
We deliver to:
A0A, A1A, A1B, A1C, A1E, A1G, A1H, A1K, A1L, A1M, A1N, A1S
St. John's
193 Kenmount Road, St. John's, NL, Canada, St. John's, A1B 3P9
Opening Hours
Monday
11:30 AM - 9:30 PM
Tuesday
11:30 AM - 9:30 PM
Wednesday
11:30 AM - 9:30 PM
Thursday
11:30 AM - 9:30 PM
Friday
11:30 AM - 9:30 PM
Saturday
12:00 PM - 9:30 PM
Sunday
12:00 PM - 9:30 PM
Delivery times may vary
We deliver to:
A0A, A1A, A1B, A1C, A1E, A1G, A1H, A1K, A1L, A1M, A1N, A1S, A1W