About Us
If you're looking for fresh sushi, perfectly cooked tempura, maki, sashimi, noodles, and more, then come on down to Sun Sushi in St. John's! With 3 locations spanning the city, you're sure to find a spot close to you. Come down to our restaurant and enjoy the rich atmosphere with friends, family,...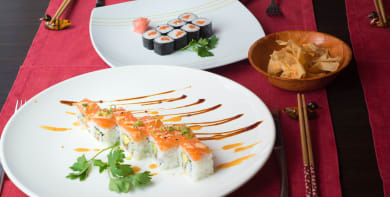 Reviews
"The salmon was exceptional! Compliments to the chef."
"It was fantastic, but I did find 2 hairs on the sushi.."
"thanks for making a friend's last night in town delicious!!"
"No chopsticks with order"
"chopsticks were missing but everything else was good!"
"Thanks so much for finding a salad for me! It was extra good!!!!"
"The endamame was an excellent substitute for the salad"
"Forgot my chopsticks. Unfortunately I had paid for them"
"No chopsticks in the bag"
"forgot the Salad, but provided edamame beans instead. Still good!"
"I loved the substitution of edaname."
"More expensive on Skip than DoorDash.."
"Curry can be a little thick/undissolved in recent months but lovely when consistency is good"
"There was no soy sauce, wasabi, ginger, or napkins."
Our Locations
St. John's
267 Torbay Rd, St. John's, NL A1A 4A2, Canada, St. John's, A1A 4A2
Opening Hours
| | |
| --- | --- |
| Monday | 11:30 AM - 9:30 PM |
| Tuesday | 11:30 AM - 9:30 PM |
| Wednesday | 11:30 AM - 9:30 PM |
| Thursday | 11:30 AM - 9:00 PM |
| Friday | 11:30 AM - 9:30 PM |
| Saturday | 12:00 PM - 9:30 PM |
| Sunday | 12:00 PM - 9:30 PM |
Delivery times may vary
We deliver to:
A0A, A1A, A1B, A1C, A1E, A1G, A1H, A1K, A1L, A1M, A1N
St. John's
186 Duckworth Street, St. John's, NL, Canada, St. John's, A1C 1G5
Opening Hours
| | |
| --- | --- |
| Monday | 11:30 AM - 9:30 PM |
| Tuesday | 11:30 AM - 9:30 PM |
| Wednesday | 11:30 AM - 9:30 PM |
| Thursday | 11:30 AM - 9:30 PM |
| Friday | 11:30 AM - 10:15 PM |
| Saturday | 12:00 PM - 9:30 PM |
| Sunday | 12:00 PM - 9:30 PM |
Delivery times may vary
We deliver to:
A0A, A1A, A1B, A1C, A1E, A1G, A1H, A1K, A1L, A1M, A1N, A1S
St. John's
193 Kenmount Road, St. John's, NL, Canada, St. John's, A1B 3P9
Opening Hours
| | |
| --- | --- |
| Monday | 11:30 AM - 9:30 PM |
| Tuesday | 11:30 AM - 9:30 PM |
| Wednesday | 11:30 AM - 9:30 PM |
| Thursday | 11:30 AM - 9:30 PM |
| Friday | 11:30 AM - 9:30 PM |
| Saturday | 12:00 PM - 9:30 PM |
| Sunday | 12:00 PM - 9:30 PM |
Delivery times may vary
We deliver to:
A0A, A1A, A1B, A1C, A1E, A1G, A1H, A1K, A1L, A1M, A1N, A1S, A1W